New York Times opinion writer David Leonhardt's article, "America's Great Working Class Colleges" is a must-read for people who care about higher education in America. It concerns a recent study of the ability of colleges to launch students from the bottom fifth of American earners into the top three-fifths, a pro-forma measure of upward mobility toward the middle class.
The findings: less selective institutions such as City University of New York do a better job of helping graduates move up the economic ladder than do selective and elite institutions.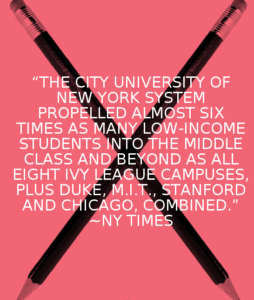 It includes the astonishing finding that "the City University of New York system propelled almost six times as many low-income students into the middle class and beyond as all eight Ivy League campuses, plus Duke, M.I.T., Stanford and Chicago, combined."
Leonhardt asserts that deep declines in state support for working class colleges cuts at the heart of their ability to outperform, even as they beat better-funded institutions at a core element of their missions. That is, they provide the most help to the students who need it most.
Why can't America's more selective universities and colleges replicate the success of so-called working class colleges in launching graduates into the middle class? And why aren't more community colleges taking on the challenge in a more focused manner?
So-called "working class colleges" offer more learning supports including "freshman experience" programs that reinforce how to learn, cohort identification and persistence. The "elites" stick closer to the sink-or-swim model. Open access allows many more students who are only marginally qualified to succeed access to college, yet these institutions still outperform the "majors." It comes down, I believe, to a comprehensive program of financial supports, cohort supports, evening classes, faculty commitment to teaching and a learning-centered posture on the part of these colleges.
In a moment when the nation considers infrastructure as a potential spending priority, I would argue that this type of educational infrastructure should become a public investment priority. And for those who complain about rising tuition, how about correlating that to declining state support for higher ed?
As to the role of community colleges in student outcomes, while they generally do a laudable job, on par with the great working class colleges, in serving their least affluent students, they persist too often in viewing students as à la carte consumers, and do not take sufficient responsibility for student outcomes.
It's not that hard to survey student intentions at the outset, and for those students who identify their goal as to use the community college as a primary provider for their first two (or more) years and then matriculate for the final two (or more) years it will take to earn their four-year degree, these colleges need to first track outcomes during the two years those students are on campus and beyond to learn what works. That is to say, they should use the longitudinal methodology of The Equality of Opportunity Project's study in measuring their effectiveness.
Increasingly, two-year colleges are recognizing and responding to the challenge, but unless they can make their own case based on objective data, they will not be competitive in making the case for reversing much of their own declining state support.
If we want to avoid the creation of a permanent two-track society—the effects of which are becoming strikingly apparent at this very moment—we had better get in gear for education-based upward mobility again. Better funding colleges like City College, the University of Texas at El Paso and California State Los Angeles would be great way to start.
As a consultant in the field of philanthropic funding for higher education, I know that the great class divide is actually deepened by the tendency that donors have to give to high-prestige institutions. That reality increases the demand on the elites to do much better in raising the bar on educating the nation's poorest students.